I took part Springback Academy @ Aerowaves' Spring Forward festival, Aarhus, Denmark. watching 20 performances over 3 days. I wrote 5 short reviews which are collected here, followed by a longer reflective feature which I republish here. I was mentored and edited by Roslyn Sulcas (New York Times)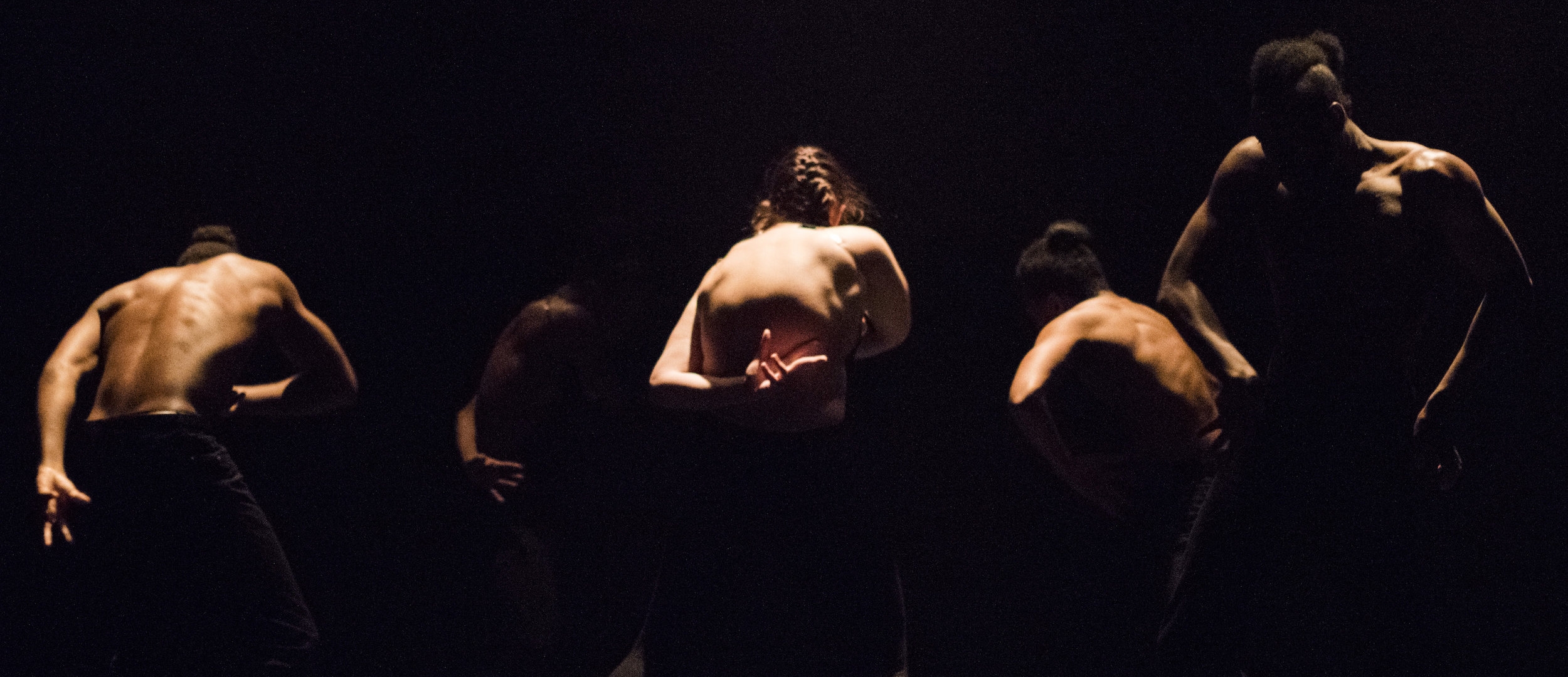 Minority identities and the politics of turning one's back
'Reck', by UK choreographer Botis Seva, with his company Far From The Norm, is billed in the brief Spring Forward listings as a "riotous exploration of dorsal body language". This is not what it is. A tribe of oiled, sweaty, muscular people crouch and crawl - with their backs to the audience and their faces mostly obscured – they pop, flex and convulse their extraordinary dorsal muscles. It's physically impressive and almost beautiful in the mysterious spot lighting, but these are black people performing primitive and primate movements to a soundtrack of ominous jungle sounds, tribal beats, and later hip-hop. These are images evoking a terrible colonial past: stereotypes that should never have existed, being re-enacted by London-based artists for our post-colonial gaze. Are we, an audience of predominantly white, internationally mobile, mostly publicly funded, hyper-culturally aware arts professionals, working in the context of a troubled Europe, supposed to be most interested in the choreographic form of their dorsal muscles over the racial politics? Worryingly, the festival programme would suggest so.
At the end of the piece, the performers eventually stand and face out to the audience: the only time that we get to see them as people, with faces and identities, before a blackout and they exit. Empty spotlights remain on stage while lights come up on the audience to a hip-hop track played in full. It invites us as watchers to turn our gaze upon ourselves and consider the imagery we have processed and the assumptions we have made about it. I don't want to turn my back. 'Reck' provoked strong reactions at the festival because of the way that the images are presented with limited comment: the onslaught of archaic, problematic imagery is never explicitly subverted. We, perhaps, needed more personal, facial connection to feel that the performers were in control of how it was presented and received.
When watching twenty performances in less than three days, patterns emerge and the Spring Forward showcase did feature an uncommon number of dancers' backs. In both 'Bolero' by Jesus Rubio Gamo and 'Alien Express' by Žigan Krajnčan & Gašper Kunšek, their turned-away choreography is enhanced by the honesty of their facial expressions: exhaustion and warmth, respectively. However, it's in the work of the artists exploring minority identities that hiding and then indeed revealing their faces becomes most pertinent.
Without a performers' face, we watch their body dancing in a different way: with a key piece of their identity removed, as a physical form in itself – there's a risk of even being examined as a specimen. Allessandro Schiattarella, who made 'Altrove', has Hirayama disease, a neuromuscular disability that particularly affects his hands and his arms and back are visibly emaciated. The piece opens with Schiattarella skulking across the wall like an insect before exploring the extremes of his joints and muscular flexibility: there's personality but it's from his body language and we are left to consider the defining impact of Schiattarella's disability on his entire identity as a dancer and as a person.
Conversely, in 'Displacement' by Mithkal Alzghair we always see the performers' faces and topless torsos. Rigid, with linked arms, three men stomp and shuffle: a folk dance rather than a technically accomplished work. We watch and are watched as the fury and pain of these Syrian men's exile from their homeland is paced out in circles. Their pained but neutral faces tell their story and it is harder to ignore than if we had mostly seen their backs.
The final image of 'Woman', directed by Andreas Constantinou and performed and by trans performer Daniel Mariblanca, is also testament to the power that direct facial and eye contact can have. Lit only chest-upwards, Mariblanca stands back to the audience but head floating in the darkness, turning around to stare directly at us. Over the course of ten minutes they turn their chest and head from side to side, faster and faster, fixing their glare on the audience each time, with increasing fervour as the music builds to an epic crescendo. With a female-sexed body in darkness, how do we see Daniel? It's an intense, direct and interrogatory sequence that grips the audience.
As much as a back and a body can move and communicate, there is more agency in a face: more control over how the audience perceives it, and we are less able to watch passively but instead forced to engage with the subject, the feelings, the emotions, the identity of that person. For artists presenting imagery that is representing minority or oppressed bodies, it's key that the audience perceives the work how it is intended, and ideally feels a personal connection. With a face we understand, and we're less able to leave the theatre and forget.